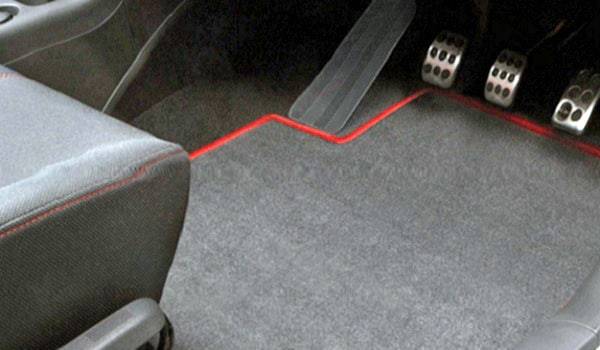 Choosing whether to buy a set of car mats made from luxurious velour or heavy duty rubber might at first be a style based or a budget led decision. But there are perhaps a couple more considerations.
We like to think that our top-end super prestige luxury car mats offer exceptional value and are well worth paying a few extra pounds for.
Our Prestige car mats will give you car a stylish and luxury feel and if you've invested good money on a car you are proud to own, why wouldn't you spend a little bit extra to make the car's interior look as good as the car does on the outside
Luxury car mats create the look
Prefer a black car, deep pile black carpets with a vibrant red or blue trim will add style and a splash of colour to give your car's interior a designer look and a luxury feel. The same look would also work if your preference is for a bright red or blue car.
For orange/gold or yellow cars, both grey and black carpets with orange or yellow trim will create the look.
The same look is created with silver or green trims for cars of these more subtler shades.
Made for comfort and style, the prestige luxury car mats offer top-end luxury at affordable prices.
And just like cleaning your carpets at home, our luxury car mats can be brushed, vacuumed or steamed, you can also add some carpet fragrance/refresher to eliminate any odours and keep the carpet, and your car, smelling as fresh as a daisy.
Rubber car mats offer a heavy-duty solution
Our custom fit heavy-duty tailored rubber car mats offer the best and most stylish option for all-weather protection.
If you car is used as a 'taxi' and continually ferrying passengers here there and everywhere, it will no doubt become the victim of messy children, or messy friends.  A ride for your pets perhaps? There are a number of factors that will make your car prey to wear and tear.
Our durable heavy duty rubber car mats are the perfect choice for protecting the floor of your car from dirt and debris, water and other fluids.
Our tailored rubber car mats are made from easy-clean black rubber, so cleaning them is a doddle, simply wash the mats in soap and water, or stronger detergents for any stubborn stains.
With a variety of coloured trims for you to choose from, our heavy duty rubber car mats will give your car's interior a touch of colour and style as well as well as the protection a 'workhorse' needs.
Get the best of both world's
Most of us like to look our Sunday best, and the same can apply to your car. Special occasion, nice drive somewhere or even a motoring holiday, get out the 'Sunday best' car mats.
A set for best will also help avoid the embarrassment of giving a last minute lift to somebody in a car that looks a little worse for wear.
Our custom car mats are made to be easily and quickly removed which means changing them takes no time at all.
A set of heavy duty rubber car mats for heavy every day use and a set of prestige luxury car mats for best?
Not only will this allow you to have the best of both worlds, if you decide to sell your car you can keep your best car mats for your new one, or sell them with the car and add a bit more wow factor.