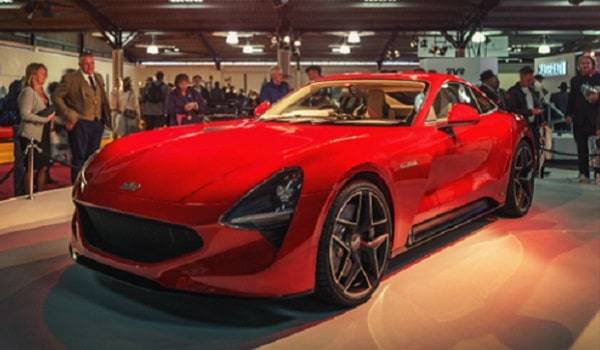 The new 500bhp V8 TVR Griffith was the star of the show at the recent 2017 Lancaster Insurance Classic Motor Show at the NEC in Birmingham.
In a coupe for the TVR Car Club, the new Griffith shone at the Club's stand and was seen for only the second time at a major UK event. In it's previous outing at the Goodwood Revival in September the Griffith received rave reviews and it was no different at the Birmingham event.
The TVR V8-powered supercar has a top speed of 200mph and a price tag of £90,000 and is the first TVR since a private millionaires' consortium, led by computer games magnate and entrepreneur, Les Edgar took control of the company in 2013.
But now TVR is reborn and the first car is the two-seater Griffith, which takes its stunning design inspiration from the original TVR Griffith.
The latest '21st century' TVR is also revolutionary and it is the first production car to deploy Gordon Murray Design's iStream technology, which simplifies the manufacturing process while introducing carbon fibre to deliver structural rigidity.
The chassis is made from carbon composite bonded to steel and aluminium, with body panels also in composite. The iStream technology gives the Griffith notable safety performance, as energy is directed through front and rear crash structures, leaving the chassis intact.
The Griffith first appeared in 1963 when American Motor Engineer Jack Griffith replaced the 1800 engine in his Grantura MkIII with a 4.7 litre V8 to produce the first TVR supercar. The Griffith then reappeared again in 1991 and the new model was joined by both its predecessors at the TVR Club Stand at the Birmingham show.
The 1991 Griffith has been described as a design icon and it celebrates Peter Wheeler's time as head of the Blackpool company. The 1991 TVR Griffith has widely been credited with saving the company at the time.
TVR Car Club chairman Richard Sails said: "TVR chairman Les Edgar, Gordon Murray of GMD and the whole design team have taken great care to incorporate the DNA of the earlier cars in this exciting new model and it is a real honour to be able to display it on our stand. Alongside a collection of other cars from TVR's proud history, we believe that it will reflect the 'Family Ties' theme of the show most effectively, whilst also celebrating the 70th anniversary of the founding of TVR by Trevor Wilkinson in Blackpool in 1947".
The Blackpool based sports car marque ceased production in 2006 under then owner, Russian 'mini oligarch' Nikolai Smolensky, who bought the company from Peter Wheeler in July 2004 for a rumoured £15 million.