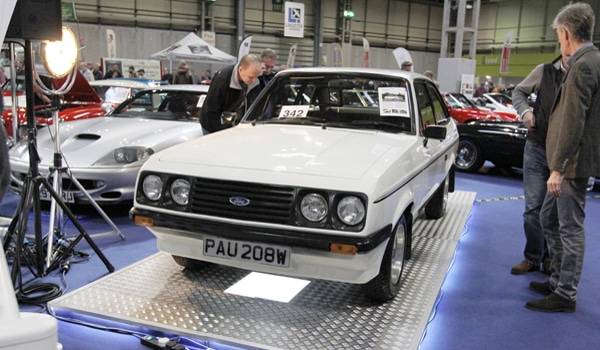 This year's Lancaster Insurance Classic Motor Show took place at the weekend and as always, lots of effort, passion and imagination was on display, alongside 2,500 cars spanning 120 years of motoring.
From early vintage steam and crank levers, British and European classics, American muscle, retro hot hatches to classics of the future, it was all here at the NEC, Birmingham.
Super cars such as Ferrari, Lamborghini, Aston Martin and Jaguar could be examined up close and personal and the new TVR Griffith, making its second appearance at a UK event, was one of the undisputed stars of the show.
Other highlights included televisions, Mr 'Wheeler Dealer', Mike Brewer and his new co-host and mechanic Ant Anstead, bringing motoring madness and mayhem to the Discovery Live Stage.
The pair also took over the podium at the start of the two-day Silverstone Auctions sale and raised £50,000 for their charity lots during a lively auction.
Several world records were broken and 67 per cent of the vehicles on offer were successfully sold, with a total sales value of £3.6million.
Highlights of the auction included a 1988 Ford Sierra Cosworth RS500 fetching a six figure sum for the second time this year, finally selling for £112,500.
A 1980 'showroom fresh' Ford Escort RS2000 Mk2 sold for an auction-record £97,875, while a 1996 Ford Escort Cosworth Lux, with only 837 miles on the clock, also broke another auction record when it sold for £91,125.
Del Boy's Reliant Regal van from the BBC comedy, Only Fools and Horses, fetched £41,625 on the first day and a 1968 Jensen Interceptor Mk1, formerly owned by legendary comedian Eric Morecambe, brought some sunshine when it went under the hammer at £95,625.
Prize winners at the show included a 1959 Morris Mini-Minor, which was given first prize in the Meguiar's Club Showcase event and a painstakingly restored 1983 VW Golf GTi MkI, which walked away with first place in the Pride of Ownership competition .
Cars of the 70s and 80s, which were once very familiar sites are still proving to be a major attraction at the NEC.
Maestros and Montegos, Rover 800s and even an Austin Allegro, complete with the 'square' steering wheel, were once again a very popular attraction with the visitors.
A reminder of a bygone era many of us still remember vividly, as well as a ghostly homage to British car manufacturing perhaps.