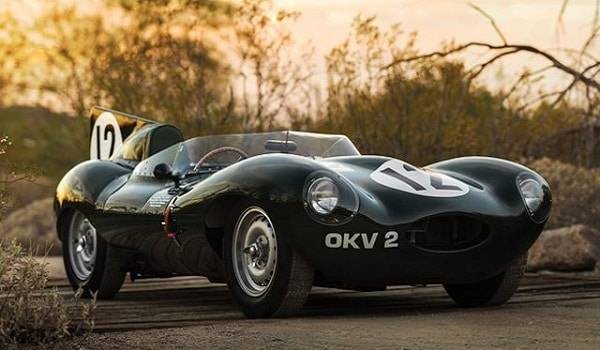 One of only five Jaguar 'Works' D-Type development cars is expected to sell for over £10million when it goes up for auction next month.
Driven by Sir Stirling Moss, the Jaguar D-Type – chassis number XKD 403, was the lead car in a team of three Works D-Types in the 1954 Le Mans 24-hour endurance race.
The estimated price is between £9million and £11million when it is auctioned in the United States by RM Sotheby's Scottsdale, in Arizona, but it is tipped to go under the hammer for a much higher price.
The D-Type, considered to be as iconic and as beautiful as the E-Type, was one of the first cars to benefit from a monocoque construction and it also had disc brakes on all wheels.
Less than 100 D-Types were built. including the five five Works cars.
The car, designated number 12 and assigned to Sir Stirling Moss and Peter Walker, who had both won the Le Mans event in 1953, was the fastest Works D-Type in practice that year, but it's race was ended after the fuel filters became blocked.
In an illustrious career, XKD 403 won Le Mans three consecutive times between 1955 and 1957 and took part in a more than 55 races in the 1950s, achieving five wins and 24 podium finishes.
It quickly became Jaguar's number one Works car and was driven by 16 different Jaguar factory test drivers, six of whom were also Le Mans winners.
The D-Type has been expertly maintained and looked after and the lot also includes memorabilia such as Le Mans entry forms, factory time sheets, test reports and FIA papers. There's even a spare RAC-stamped Works engine included in the price.
We manufacture luxury car mats for practically every model of Jaguar, but unfortunately we don't get many orders for the D-Type. Our great selection of tailored Jaguar car mats does however include the XF and XF Sportbrake, F-Pace and F-Type, as well as earlier models of the S-Type, X-Type, XJ, XJS and XJ6.