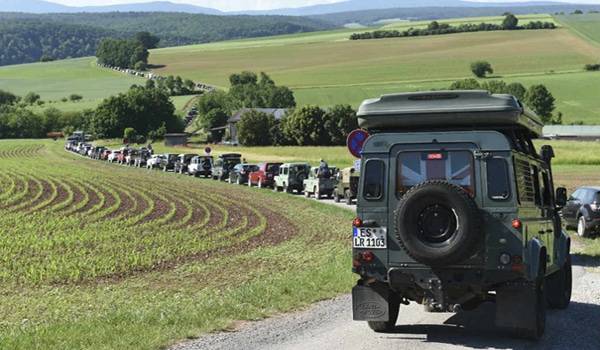 A new Guinness World Record has been set by Jaguar Land Rover Deutschland GmbH for the largest ever parade of Land Rovers and Range Rovers.
The world record, set in Bad Kissingen, Bavaria, Germany, consisted of 632 Land Rover and Range Rovers, of which over 80% were Land Rover Defenders.
Jaguar Land Rover Deutschland set the new record, with the help of volunteers, as part of Land Rover's 70th anniversary celebrations marking the original Land Rover's unveiling, which took place on 30 April 1948 at the Amsterdam Motor Show.
Participants in the parade were volunteers and Land Rover or Range Rover owners, many of whom had travelled from far and wide to take part in the record attempt. Two Land Rover Defender owners even drove all the way from Siberia to take part – a journey that took them eight days.
The record was attempted during Abenteuer Allrad, the world's largest cross-country vehicle exhibition, which is held ever year in Bad Kissingen.
To set the new Guinness World Record, the vehicles followed a 7.4 km (4.6 mile) track, located on a large area of farmland near the Abenteuer Allrad event venue.
The vehicles had to maintain a distance of no more than two cars' length away from the vehicle in front in order to qualify as a valid record attempt. Any vehicles that exeeded the gap of two cars distance would be disqualified from the total number.
The drivers had one practice run before the official record attempt, which took just under an hour from start to finish.
Stewards were placed at 1km intervals along the 7.4km track, to look for any large gaps in the parade.
Guinness World Records' adjudicator, Sofia Greenacre, along with two witnesses, counted and verified the number of Land Rover and Range Rovers taking part in the record attempt.
Once the record was confirmed, Jaguar Land Rover Deutschland were duly awarded their certificate and a place in the book of Guinness World Records.