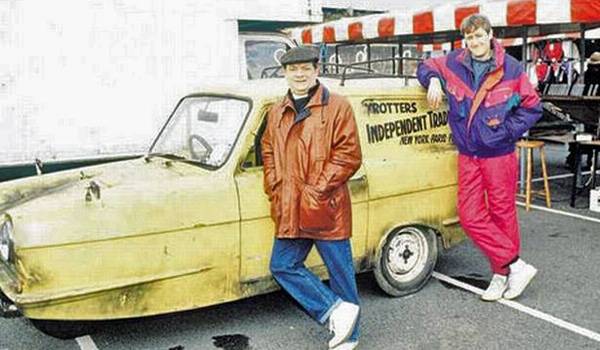 The most iconic car in British television history could be yours later this month when it goes up for auction at the NEC Classic Motor Show in Birmingham.
One of the brighter stars of Only Fools and Horses, Del Boys's yellow Reliant Regal three-wheeler van, is expected to fetch some serious spondoolies when it goes under the hammer on November 11.
The distinctive motor, wrongly labelled a Reliant Robin for most of it's life, comes with additional extras including a nodding tiger, fluffy dice, striped faux fur seat covers, a formica dashboard, a fake leather steering wheel cover, custom rubber car mats with 'Del Boy' written on the driver's side and 'Rodney' on the passenger side and a roof rack – together with a suitcase.
Also included, are a set of blow-up plastic dolls and the obligatory 'tax in post' tax disc.
With the much loved signage – 'Trotters Independent Trading – New York, Paris, Peckham' emblazened on the sides – the new owner probably won't mind being called a 'Plonker', especially as it has a remote control key start, DVD player and cassette radio and a valve-opetrated smoke machine which emits clouds from the exhaust.
It comes complete with the original owner's handbook and a supposedly valid MOT certificate which runs out in June 2018. It is currently unsure if the car has been taxed as yet.
The current owner has decided to auction the fully authenticated van with no reserve price, meaning that this slice of TV ans automotive history could be somebody's for a steal.
Nick Whale, managing director of Silverstone Auctions, which is selling the Reliant, said: "Del Boy's Reliant Regal is one of the most distinctive cars of BBC comedy history.
"Only Fools and Horses has a fan base spanning several generations and is something of a British treasure, so to have the van from the series for auction is a real treat which will no doubt draw the crowds.
"Disregarding its TV provenance, this car is probably that most reliable example of this marque that you will find."
If the iconic motor can raise as much attention as the rare pocket watch somebody might be on to a nice little earner.
He who dares Rodney, he who dares …