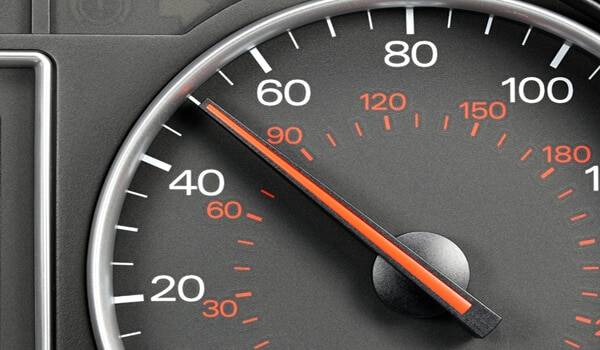 According to research undertaken by Auto Express, many car speedometer readings are not as accurate as they could be.
The results, taken from a sample of 10 models from leading car manufacturers, including BMW, Volvo, Peugeot, Kia, Skoda, Mazda, Dacia and Seat, showed that it would be wise for driver's not to put too much trust on the accuracy of their cars's speedo.
By law car speedometers are not allowed to 'under-read', i.e. they can't tell you you're going more slowly than you really are, but they are allowed to over-read – by up to 10 per cent plus 6.25mph. So they could read 50.25mph at 40mph.
All the cars tested were well within the legal limits, but although some speedo's read with near-perfect accuracy, others were out by up to 3mph.
The test involved setting the test cars to 30, 50, 60 and 70mph using the built-in speed limiter or cruise control, to ensure a steady speed and using a VBox – a clever and very accurate bit of tech that uses a GPS signal to measure a car's speed – to give a fair idea of the discrepancy between the actual and the indicated speed.
Of the ten cars tested, the Volvo XC40 D4 Auto R Design and the Seat Arona 1.0 T SI 115 came out on top. The XC40 was bang on at 30mph and 1mph under on all the other tested speeds, while the Arona was dead on at 60mph and again, 1mph under on all the other speeds.
The most inaccurate, according to the test, was the Kia e-Niro First Edition which was 3mph under on all four tests.
AA president Edmund King welcomed the test, saying, with speedometers becoming increasingly accurate, "Auto Express's testing is a valid reminder to drivers not to gamble on their speedo perhaps providing some leeway".
The Ten Models Tested
| | | | | |
| --- | --- | --- | --- | --- |
| Model | True speed at indicated 30mph | True speed at indicated 50mph | True speed at indicated 60mph | True speed at indicated 70mph |
| BMW 330i M Sport | 28mph | 48mph | 57mph | 67mph |
| BMW i3s | 28mph | 48mph | 58mph | 68mph |
| Dacia Duster dCi 115 | 28mph | 48mph | 58mph | 68mph |
| Kia e-Niro First Edition | 27mph | 47mph | 57mph | 67mph |
| Mazda MX-5 2.0 | 27mph | 48mph | 58mph | 68mph |
| Peugeot 5008 BlueHDi 130 manual | 28mph | 48mph | 57mph | 68mph |
| SEAT Arona 1.0 TSI 115 | 29mph | 49mph | 60mph | 69mph |
| SEAT Tarraco 2.0 TDI 150 manual | 29mph | 49mph | 59mph | 68mph |
| Skoda Kodiaq 2.0 TDI 150 manual | 28mph | 48mph | 57mph | 67mph |
| Volvo XC40 D4 auto R-Design | 30mph | 49mph | 59mph | 69mph |