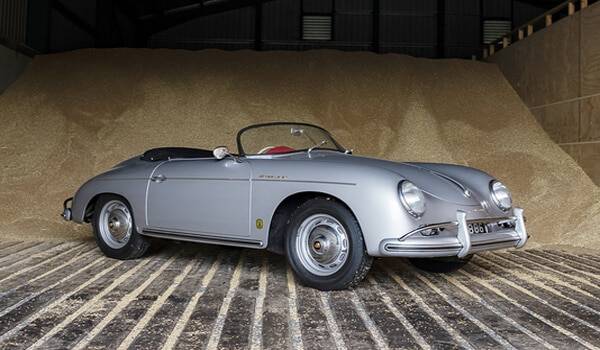 One of the most desirable Porsche's ever made will be up for auction at this weekend's Race Retro at Stoneleigh Park, Coventry.
An original Porsche 356 A Speedster will be going under the hammer and could fetch between £280,000 and £320,000.
Built in 1958, the 356 A T2 Speedster is one of an estimated 555 making up the final and most desirable production run of the model.
The Speedster was bought by its current owner from an auction at Pebble Beach, California, in 2015. It was then imported into the UK and professionally converted to right-hand drive.
Finished in silver with a red leather interior, the Speedster also has some distinctive features including a lightweight body, low, removable windscreen, minimal folding top and side curtains in the place of side windows.
The minimalist inspired interior includes a large, two-spoke steering wheel, lightweight racing-style bucket seats and a light grey carpet – in need of a set of quality Porsche car mats. The interior also features leather covered door panels and upper dashboard.
The car has had a number of upgrades, including an improved trans-axle and steering box design, but it still has the original 60bhp, 1582cc flat-four engine and four-speed gearbox.
According to Nick Whale, managing director at Silverstone Auctions, the Speedster is one of the "best examples of a genuine Porsche collector's car that they have had the pleasure to offer at auction.
"Over the past few decades the 356 Speedster has become an automotive icon and is very much sought-after by enthusiasts and collectors worldwide. These days, replicas are popular with enthusiasts, but there's nothing like an original, which is what we have here."